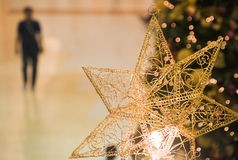 SOUTHWEST COUNSELLING CENTRE
OFFERS A LIFE LINE OVER THE HOLIDAY SEASON
 The Holiday season can be a difficult time for even the most robust. There can be high expectations to have a good time which can make it a difficult time for many. People can feel under extreme pressure as they struggle to live up to Season's expectations. The Holiday season can cause emotional turmoil among families. Many people are exhausted by Christmas and the holiday preparations. This combined with a busy family time, perhaps too much alcohol and over spending can leave people feeling at a deficit financially, emotionally and spiritually.
For many men, being separated from their families during the Holiday Season can be a particularly isolating and lonely time. There's a lot of media hype about family and Christmas time, by definition, is a time for family, for celebration and for happiness. This can all add to the stress one feels around the holidays. The expense of buying gifts coupled with heightened expectations, financial pressures, isolation, and family tensions, can undermine our Holiday Spirit. We have put together some practical suggestions to help make your Holidays relatively stress free.
Reach out If you are feeling lonely or isolated; seek out someone to talk to. This may be a family member, a friend, your GP or a counsellor.

Be Realistic Whilst we may have images of the perfect Holiday Season from movies and songs– this is rarely the case in reality. Cut yourself some slack this Season and remember it doesn't have to be perfect (and rarely will be).

Stick to a budget Decide how much money you can afford to spend and then stick to this. Planning ahead can also take much of the stress out of the Holidays.

Take time for yourself Be sure to factor in some time for you – take a walk, relax whilst listening to music, go for a swim. Spending just 15 minutes alone, without distractions can refresh you and help clear your mind.

Stay healthy The holiday season can be a time when we overindulge on sweets, cake and alcohol. Try not to abandon your healthy habits and be sure to get plenty of sleep and physical exercise.
 At SouthWest Counselling Centre we recognise the challenges people may face at this time. To support people who are feeling in distress or needing someone to talk to, Kerry LifeLine at SouthWest Counselling Centre Killarney will provide support for people at this time. You can talk with a counsellor over the phone or drop into our Centre between 10am and 5pm over the Holiday Season. Tel 064 6636416. If you need to talk to someone immediately/ or outside of these hours please The Samaritans on 1850 609090. SouthWest Counselling Centre is located on Lewis Road (next to Aras Phadraig), Killarney.
SouthWest Counselling Centre will run an 8 week Programme for Parents of children aged 5 to 12 years, starting on 19th January, cost €25.  Call 064 6636416 for more information.
SouthWest Counselling Centre Killarney provides affordable professional counselling to children, adolescents adults and couples – both at its Killarney Centre (Lewis Road) and at Kenmare Family Centre. info@southwestcounselling.ie. Kerry LifeLine provides FREE counselling and support to anyone feeling suicidal or bereaved through suicide. info@kerrylifeline.com    To make an appointment call 064 6636416/064 66364100
 SouthWest Counselling Centre is a not-for-profit organization. All funds raised through fundraising go directly to service provision